Smooth Jazz Continued
Fattburger is a San Diego based smooth jazz band. They'll sometimes take popular hits and play them in their own, unique way like the song Evil Ways and O Ye Como Va. I saw Fattburger at the World Trade Center in August, 2001.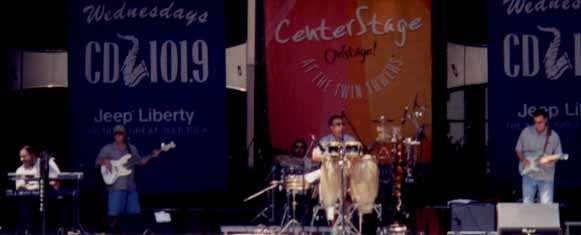 Rick Braun is a world class trumpeter. His trumpet sings out over his unique minor 9 chords. He's great to listen to at night. He has a very contemporary sound which appeals to me. You can catch Rick Braun in two of the Videos below at in the video section of this page.
David Benoit has been making records for 14 years and is a world class contemporary jazz pianist. He made an album of Charlie Brown tunes honoring Vince Giraldi. Benoit is very soothing to listen to. He uses major 9 and minor 11 chords in unique ways. I like his album "Professional Dreamer" and other singles like "Kei's Song", "Freedom at Midnight", and "Musicians With Attitude. Benoit recently came out with a new album called "Fuzzy Logic", which contains the song, "Snap", which I really enjoy.
Spyro Gyra is a contemporary jazz band who adds unique effects to their music. I like their song, "Open Door" and "Groovin for Grover" on their "In Modern Times" album and on their most recent release, "Original Cinema", "Getaway".
Sade is a singer of love and passion. She sings very moody songs with great chords. Her voice fits perfectly with the melodies. She is one of a kind. She is accompanied by great instrumentalists. "The Best of Sade" is worth getting.
Luther Vandross is a prominent voice in R&B. His voice is vibrant with soul and sings some great tunes. The ones I like are "Always and Forever", "Going in Circles", "Here and Now", and "If Only For One Night", "Goin Out of My Head", "Love Won't Let Me Wait", "Any Day Now".
Jon Lucien is singer who sings with harmony and passion. His voice is very soothing to listen to, and when I saw him at the World Trade Center, he sang the song "Sailing" in a very unique way and it made you feel like you were on a beach in the Caribbean. (Pictures from Jonlucien.com)
Special EFX Featuring Chieli Minucci
Special EFX is one of my favorite bands. When I think of Smooth Jazz, their name always comes to mind. I couldn't find an official web site of theirs, but as soon as I do I will link it. The group features guitar phenomenon Chieli Minucci who can just rip up and down. He is an awesome player. Minucci and George Jinda originally started the group, but Jinda became ill and has not been able to continue. Special EFX' newest album "Butterfly" is phenomenal and I enjoy just about every song on it. Special EFX used luscious minor 11 to major 9 and suspended chords which make their music superb and delightful.
This England-based Smooth Jazz group keeps the groove on in their music. Many of their songs have a distinct base line and unique rhythms that make listeners get into the groove. I especially enjoy their songs, "On the Corner of Darcy Street", "Brooklyn Heights", and "A Long Way from Brooklyn".
This saxman is entertaining to watch and great to listen to. His unique sound is very recognizable. You can find Dave on CD 101.9 on Sunday mornings from 7 to 9, and on CD107.7 on Saturday mornings from 8 to 10 doing the Dave Koz radio show.
This Japanese contemporary saxafonist has a very appealing modern sound. I enjoy his songs, "Hyde Park", "The Power of Midnight", "Every Now and Then" and his new cut, "3-Day Weekend".
Pieces of a Dream is a modern and soothing smooth jazz group. They just recently celebrated their 25th anniversary with their new album, "Aquainted with the Night". I like their songs, "RU Ready", "Night Vision", "Turning It Up" and "Love Silhouette."
Dave Grusin is the co chair of a record company, and a great performer and composer. He writes music that I think could easily be used in movies. Grusin is a pianist and a keyboardist. I like his songs, "In the Middle of the Night" and "Mountain Dance".
Bob James is a great pianist and composer. He is part of the group Fourplay and did many solo albums. I really enjoy his song "Westchester Lady" whose video can be found in the video section.
---