Steven W - Music
Smooth Jazz
Smooth Jazz is my favorite kind of music to listen to. I also am a musician myself. I play piano and saxophone and have taught myself guitar. I enjoy playing Smooth Jazz because of its rich soulful grooves, chords, and passionate melody that dances around it. Smooth Jazz consists of unique chords like the minor 9 and 11, the major 9, the suspended, and the augmented. The melodies make the most of the chords. Smooth Jazz is a cool yet funky division of jazz that uses complex rich chords and usually features a solo instrument or vocalist. The genre features many saxophonists with a usually bright alto or tenor sound, and a bright or dark soprano sound. Also there are keyboardists, guitarists, trumpeters as feature performers. My favorite radio station and some of my favorite artists are listed below. If a name is underlined, you can click it to go to their web site.
This Smooth Jazz Page is continued on page 2 which you can click on here or at the bottom of the page:
Any Digital Photographs I Took Of Artists You Can Click On to Enlarge (Starting with Boney James)
CD 101.9 (WQCD) is my favorite radio station. They serve the New York Metro area and provide great Smooth Jazz. They, as most Smooth Jazz stations do, sometimes play watered down smooth jazz and edit out solos for commercial radio sake, but I guess they have a large audience to appeal to. Live Smooth Jazz is sensational. Artists express their full array of talent and the music is much more lively than on the radio. CD 101.9 puts on great summer concerts in New York City every year; many of which are free. Below you'll see pictures from the free concerts.
Boney James is a great Saxophonist, in fact one of my favorites. All his albums are great He plays tenor, soprano, and alto, sax. I love his songs, "Sweet Thing" , "Backbone", "Just Between Us", "It's a Beautiful Thing", "RPM", "Grazin' in the Grass", which is off of his collaboration with Rick Braun "Shake it Up", a great CD that's worth getting, and so many more. He makes great music. I was lucky enough to catch a free concert of his in Bryant Park in NYC July 11, 2002, and it was great. You can actually watch a video of "Sweet Thing" from that concert by clicking the link at the video section of this page. In August, 2004 Boney James releases a new album, "Pure" which he produced himself.
Pictures from the Boney James concert I went to at Bryant Park in New York City
Al Jarreau is a multiple Grammy winner with multiple hits. He is dynamic and animated in concert and a great entertainer all around. I like his songs, "Morning", "We're in this love together", and "So Good". I saw him in concert at City Hall Park as part of the J&R Downtown Jazzfest 2003 on August 19, 2003. Photos from the concert are below.
Alex Bugnon's playing is easily described in one word, funky. He is a fantastic keyboardist from the French part of Switzerland who has been recording since 1988. His solos consist of a fusion between traditional bebop licks over a smooth, funky chord progression and is quite brilliantly done. Some of his big songs were "Around 12:15 AM", "This Time Around", "107 Degrees in the Shade". He in June 2004 released his album, "Southern Living". I saw him in a fantastic concert at Bryant Park on July 21, 2004. Photos from the concert are shown below.
Bob Baldwin gets things funky with his keyboard playing. He keeps the groove on and has a great band. On some songs, he is joined by soprano saxophonist Marion Meadows. Baldwin's along with other smooth jazz artists' recent release contains patriotic songs smooth jazzified. I saw him live in concert as part of the CD 101.9 Jazz Wednesdays at the South Street Seaport on July 17, 2002. Baldwin in fact came up with the CD 101.9 jingle. Some pictures from that concert are shown below.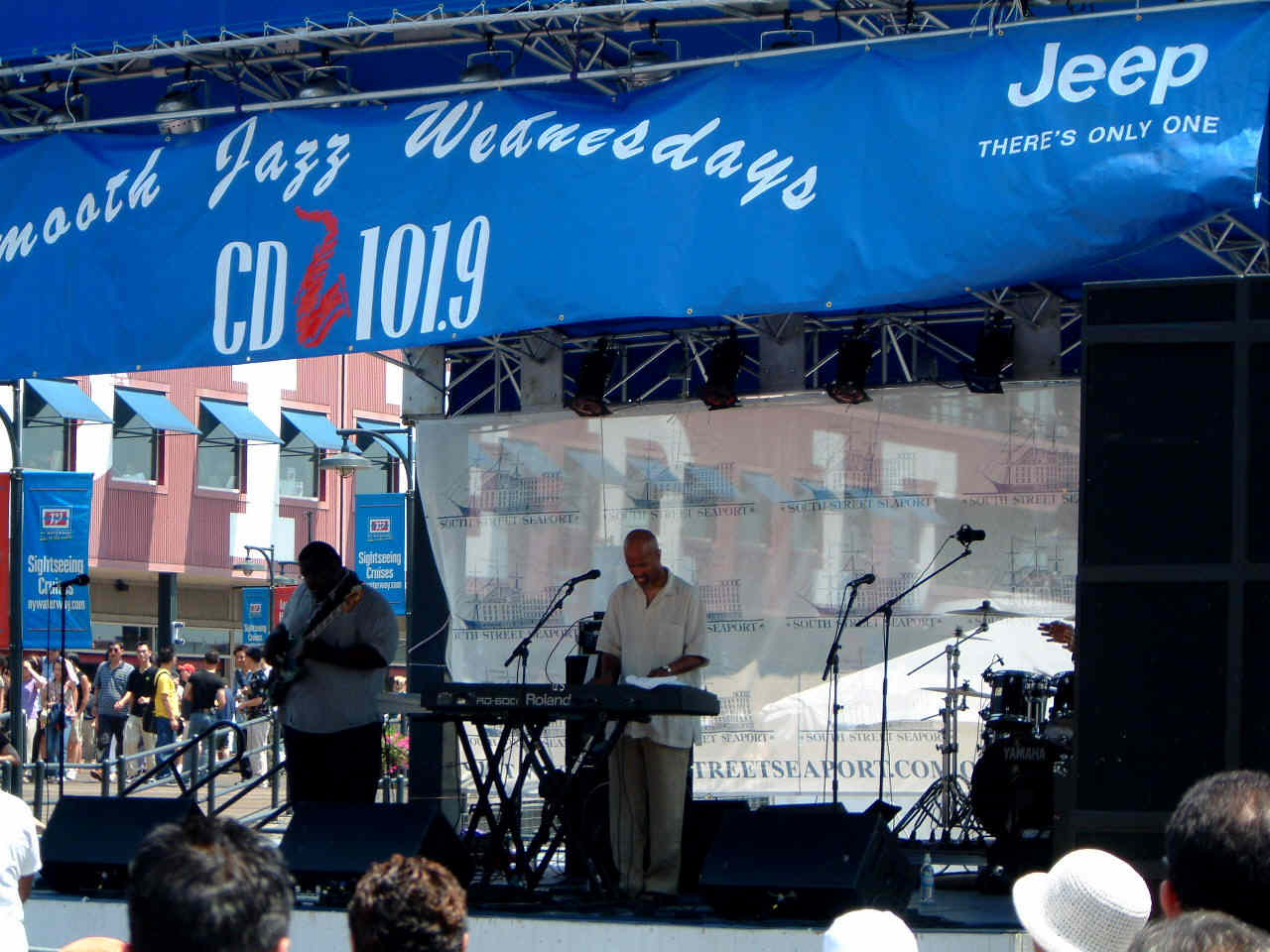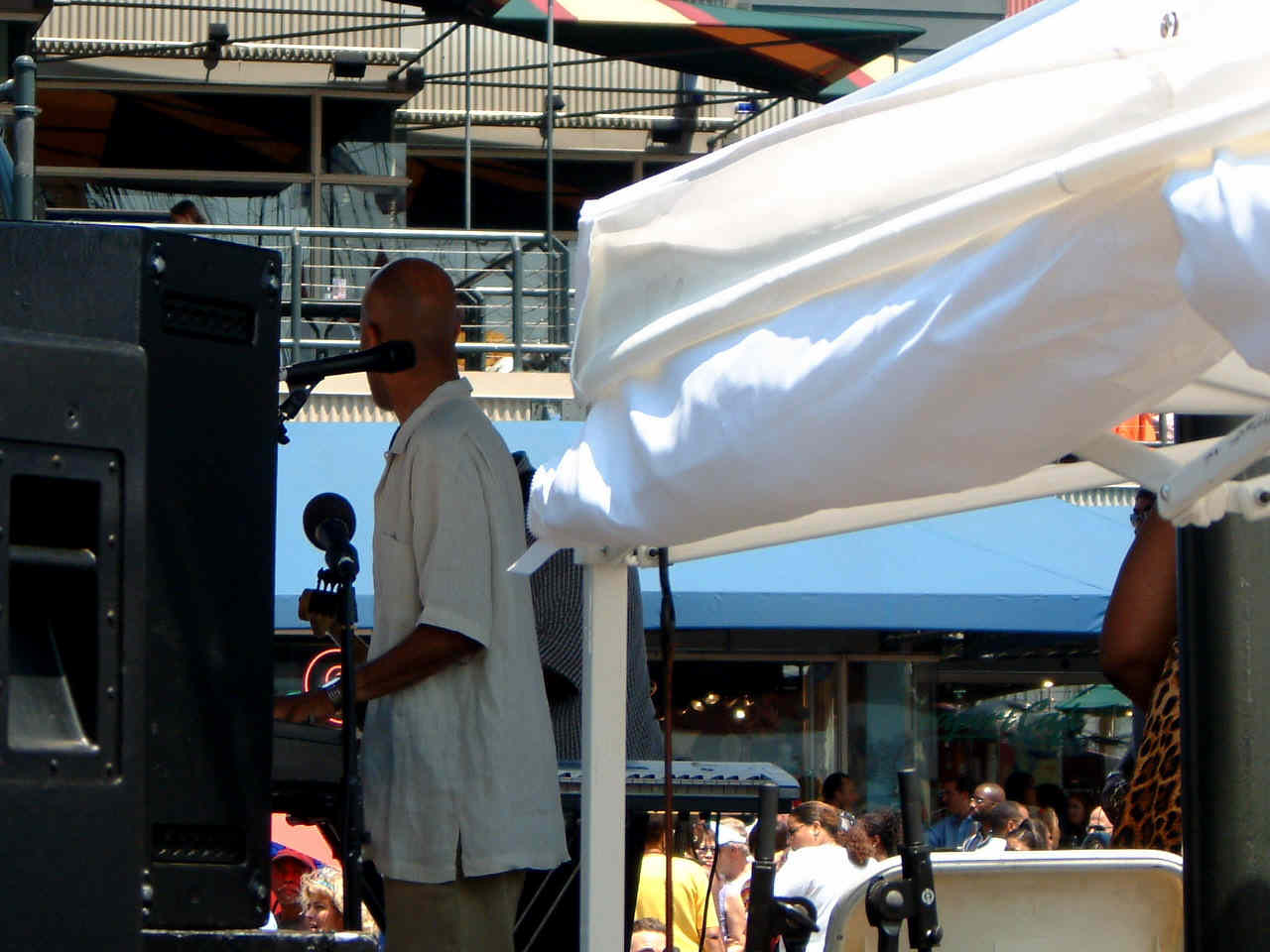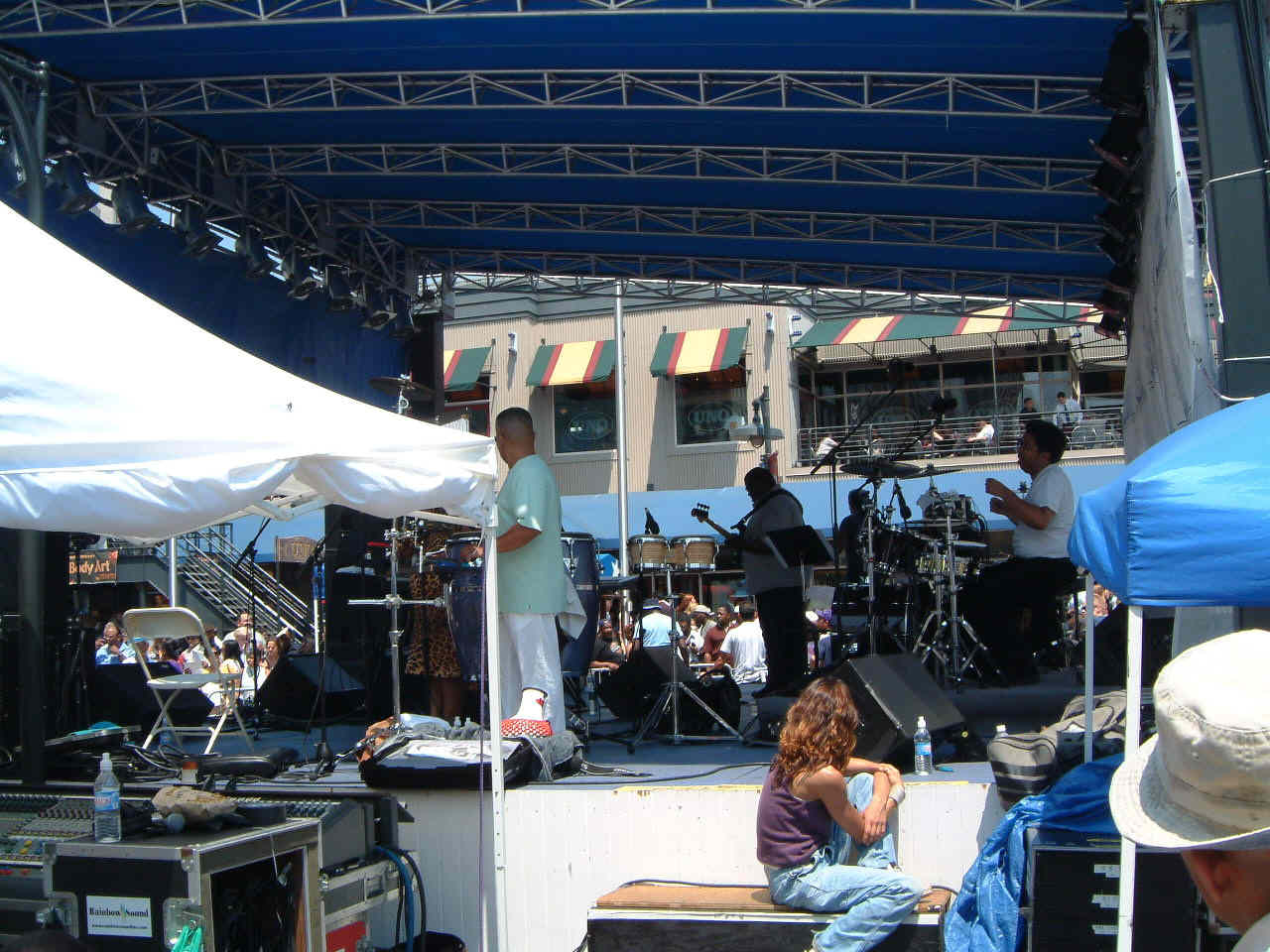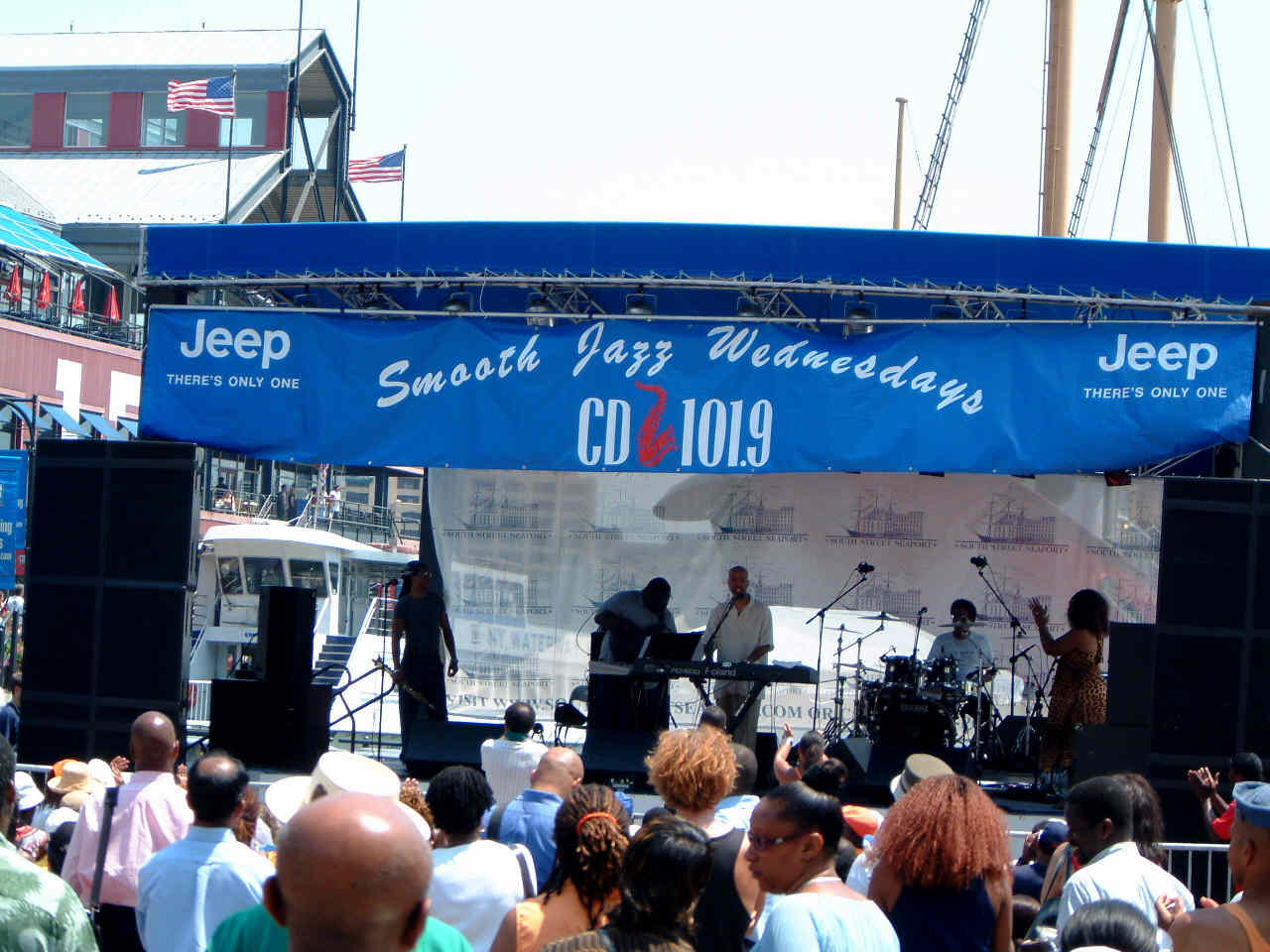 David Sanborn is one of the main names among Saxophone artists. His unique bright sound has a distinguishable edge to it. He did many renditions of popular songs, played in the Lethal Weapon series, and accompanied numerous artists. I saw David Sanborn in Bryant Park on July 25, 2002. Pictures from the concert are below. His sound and style inspired many musicians. He uses a Selmer Mark VI alto saxophone with a Dukoff D7 mouthpiece which is very bright.
I saw Kim Waters on July 16, 2003 at the South Street Seaport. He plays a great alto and soprano sax. His big hits are "Nightfall", "In the House", "Waterfall", "95 North", and a few others.
Andre Ward released his first album, "Feelin' You" in the summer of 2002. He has an absolutely fantastic style of playing and plays his saxes the way someone would sing. I love his songs "Hudson River Drive", "Feelin' You", "Neighbors". Andre is fantastic in concert. I saw him at the Tourneau Time Machine atrium on June 17, 2003 where the pictures are from. He released his second album, "Steppin Up" in March 2004 and it is fantastic. He does a great rendition of "Holdin' Back the Years", "Step in the Name of Love" as well as recorded some beautiful original compositions with his signature vocal-like sound.
Marion Meadows primarily concentrates on the soprano but is an excellent tenor and alto player as well. His sound is truly unique: soft, soothing, luscious, and his music is diverse. His songs range from slow ballads to grooving house beats. This can clearly be seen on his excellent latest recording "In Deep". Some favorites of mine are his songs, "Body Rhythm", "In Deep", "Is That You", "U.K. Underground", and others I probably haven't discovered yet. The chords he uses are superb and his keyboardist combines perfect effects that compliment the beats. I saw Marion Meadows on July 23, 2003 at the South Street Seaport where the photos are from.
Jerome Najee Rasheed's signature smooth sound can be recognized almost instantly by any Smooth Jazz fan. He has albums dating from the late 80's to the 2000's, all resonating that oh so perfect Smooth Jazz sound that clearly comes across in Najee's playing. He plays soprano and alto sax, as well as the flute. His "Songs in the Key of Life" album features his takes on Stevie Wonder classics, one of my favorites being his flute version of "Knocks Me off My Feet". Some of my other favorites of his include, "Sweet Love", "I Adore Me Amor", "Can't Hide Love", "My Angel", "Stay". I had the pleasure of seeing Najee as part of the J&R Music World Downtown Jazzfest 2003 on August 19, 2003. His performance truly knocked me off my feet. Najee in October, 2003 released his first album in five years, "Embrace". He starts out that album with the beautiful title track, then moves to some of my favorites, "Eye 2 Eye", "On the Way", and "Peruvian Sunset". Some photos from that concert are included below.
David Mann released an album "Touch" in 2001 which has some great cuts on it. Mann plays soprano, alto and tenor saxophone. His music is very easy to listen to. Some tunes of his I like are "Stone Groove", "Tribeca", "Yes We Can", and "Smoke Rings". I saw David Mann on July 30, 2003 at the South Street Seaport.
Richard Elliot is a Saxophonist of Smooth Sophistication. His warm sound and his soothing accompanying chords make him a pleasure to listen to. I like his songs, "Take Your Time", "City Speak", his take on "When a Man Loves a Woman", "Shotgun", "Chill Factor" and "Seven Sacred Pools". I saw Richard Elliot at Bryant Park as part of the Guitars and Saxes 2003 concert on July 30, 2003.
Nelson Rangell is a very versatile musician. He is outstanding at the three saxophones and the flute. He released his thirteenth album "Look Again" in 2003. I like his songs, "Turning Night Into Day", "Clutch", "Look Again", "A Little Somethin'", and "Reasons". I am still discovering music from Nelson. I saw Nelson Rangell on August 6, 2003 at the South Street Seaport.
On August 13, 2003 I had the pleasure of seeing the Doc' in the house at the South Street Seaport. His music has great grooves and smooth chords. I like his songs, "97th and Columbus", His version of "Sun Goddess" "Laid Back", "Bahama Momma", "Crusin", and "Tropical Love".
The Fantasy Band
(Pics from Concert featuring Chieli Minucci, David Mann, Dave Valentin, Bob Baldwin, Dave Samuels, Lionel Cordew and Eddie Cordew on August 16th 2003 at Bryant Park)
---
Smooth Jazz Videos On the Internet
Boney James "Ride" Musical Interview
BWB (Rick Braun, Kirk Whalum, Norman Brown) Studio Video
Fourplay and Rick Braun, Boney James, and Kirk Whalum on "Westchester Lady"
Russ Freeman & the Rippingtons Featuring Jeffrey Osborne - I'll Be Around"
Spyro Gyra "Groovin for Grover"
Pieces of a Dream "Acquainted with the Night"
Marcus Johnson featuring Jaared
Everette Harp "Lets Wait A While"
Everette Harp "When I think of You"
David Benoit Interview Part II
David Benoit Interview Part III
Larry Carlton Interview Part I
Jeff Lorber featuring Eric Benet "Say Love
Smooth Jazz Videos (Contemporary Jazz.com)
Smooth Jazz Videos and Audio Samplings (Headsup.com)
Smooth Vibes (Very Resourceful!)
---